SP-JS-01 Multi function portable car jump starter
Product Introduction
Multi function Portable Car Jump Starter is a portable set which has the function of car power supply and power bank, in full energy, it can start the car more than 18 times continuously. It can work from -20 degree to 60 degree and has perfect protection mechanism.
Compared with the other production, the main feature is we use the 18650 Cylinder high- power Lithium battery as the core and use the DC contactor to control the high current output, it improves the safety and stability. The humanized design can makes it many advantages:small size, light weight, easy to carry, easy to operate and high safety.
Lithium-ion battery/18650/500A peak, 300A cranking/Seven security protection mechanisms/Digital display/USB/Cigar Lighter/Mini.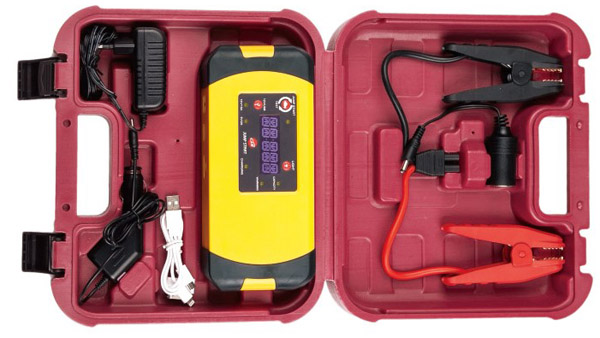 Product features
1.High reliability : Adopt the 18650 Lithium-ion battery for electric power tools .
2.High stability: Once the jump starter is fully charged, it can be used to start the vehicles for 18 times.
3.High security: Adopt overvoltage protection, undervoltage protection, reverse connection protection,high temperature protection, anti overcharge protection, overcurrent protection, short circuit protection and multiple protections.
4.Strong availability: In addition to the basic function of the emergency start, this product also provides illumination, early warning, Charger Baby and many kinds of practical functions.
5.Strong convenience: easy operation, small volume, light weight, easy to carry.
6.Strong temperature adaptability: It can work at -20°C to 60°C.
7. Long service life: Product Idle Life > 2 years.
8. ECO-Friendly: Contains no Lead, Mercury or Cadmium.
Specifications
Weight
1.0KG (2.2lbs)
Product Dim.
210 × 98 × 47mm (8.27" × 3.86" × 1.85")
Ternary Lithium Battery
12V/6AH
Battery Cycle Life
500 Times (80% DOD)
Instant Amp
500A for 20 Milliseconds
Cranking Amp
300A (on 5 Seconds than need to stop 1 Minutes)
Using Cycles
18 Times
USB
5V/2A
LED
1W/90Lm
Charger Spec.
14V/1A
Full Charging Time
5~6H
Cigar Lighter
12V/10A
Operating Temperature Range
0°C ~ 45°C (Continuous Charge Temperature )
-20°C ~ 60°C (Continuous Discharge Temperature)
Storage Temperature Range
-20°C ~ 60°C
Applications
1.It can start the car engine less than 5000CD, Small dynamo, small yacht, baby truck and light truck.
2. It can work as the power bank for cell phone, PSP, MP3/MP4/MP5.
3. It can work as the portable power bank for cigarette lighter, tire pump and many kinds of practical onboard equipment.
| | | | |
| --- | --- | --- | --- |
| | | | |
| Emergency start | lighting | early warning | Mobile charging treasure |